Product Overview
Whether in an entrance area or as a dust barrier in front of clean-rooms: ratio-clean products, operated by sensors, clean the soles of people's shoes or the wheels of trolleys thoroughly and cost-effectively. Advantage: All units can be installed without any problem in existing buildings.
Our electrically operated units are integrated into the floor as unobtrusively as the usual entrance matting. This also applies to foil changing or wheel cleaning units for trolleys which can also operate discreetly and inconspicuously as flush-mounted units. All our products are tailor-made.
---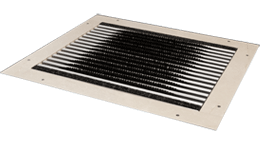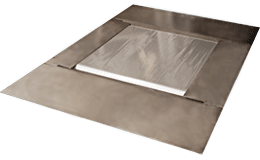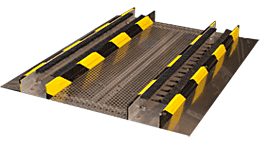 Entrance Matting System
Foil Changing Unit
Wheel Cleaning Unit
Electrically operated Entrance Matting System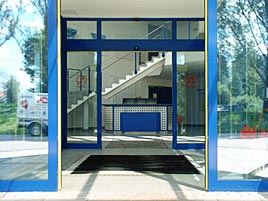 Electrically operated Entrance Matting System in entrance area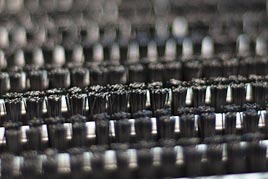 Brush-type V-belts rotating alternately clockwise and anti-clockwise at right angles to direction of walking
This Entrance Matting System cleans the soles of people's shoes in the entrance area of buildings with a large amount of foot traffic. Abrasion-proof brush-type V-belts rotate alternately clockwise and anti-clockwise at right angles to the direction of walking and this sideways movement removes dust and dirt very thoroughly from the soles of shoes. In addition the capillary effect of the nylon brushes also removes slush and dirty water. The units are very light and operated by low-noise, maintenance-free, brushless DC drive motors.
Download: dimensions and weights (.pdf, 32 KB)
TECHNICAL DATA/DETAILS:
Low installation depth, 150mm (min)
Low weight - 55 to 220 kg
SKF precision shafts in accordance with DIN 4768, Mat.Index 1.2067
SKF precision needle bearings, 2Z series
Optichain drive equipped with chain tightener
Extruded aluminium profiles, DIN 17615
Trittprofile AIMg Si 0,5F25 DIN 1625
Alloy tread profiles AIMgSi 0.5F25, DIN 1725, Mat.Index 3.3206.72
Brushless electronic dc motors, 24 V Low consumption (0.25 kWh per unit)
Robust drive motor with long maintenance intervals up to 13,000 hrs., DIN EN ISO 9001
Quiet, even running/operation
Brush-type V-belt toothing, DIN 2215/ISO (6.6 Nylon)
Optimum slush/dirt removal by water flushing system (optional)
Switch panel (includes recorder for hours operated)
On/Off switch - movement-activated
Electrically operated Foil Changing Unit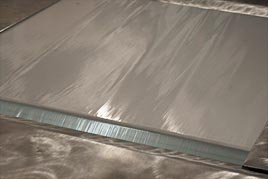 Adhesive foil removes dirt and dust reliably from the soles of people's shoes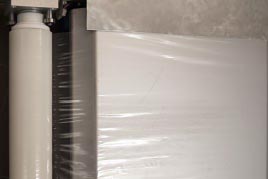 Adhesive foil is moved forward automatically and can be changed
This Foil Changing Unit serves as a dust barrier at the entrance to clean-rooms. Dirt and fine dust on the soles of people's shoes stick to the adhesive foil and contamination of clean-room areas is therefore prevented. The unit is available in two versions: stand-alone unit with handrail or built-in unit integrated unobtrusively into the floor just like any floor mat. Once saturation point has been reached, the adhesive foil is moved forward automatically.
TECHNICAL DATA/DETAILS:
Anodized aluminium construction
Stainless steel cover
Carrying capacity 150kg
Effective foil surface 600 x 500mm
Exchangeable adhesive foil reel (180 sheets per reel)
Anodized aluminium profile acc. to DIN 17615
Counter (adjustable) recording frequency of use
Automatic move forward of foil acc. to setting
Electronic control unit SPS
24VDC Motor -20°C…+80°C housing temperature
Rated current 24VDC, 10Nm
Installation depth: width 700mm length 1200mm depth 150mm
Indicator light (when foil moved forward or changed)
Can be supplied as stand-alone (standard) unit with handrail
Unit can be installed in floor cavity
Electrically operated Wheel Cleaning Unit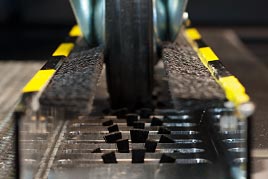 Wheel cleaned by lateral brushes and rotating round brushes from below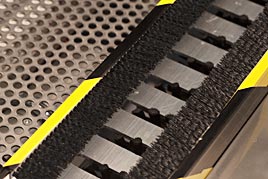 Wheel cleaned by lateral brushes and rotating round brushes from below
This Wheel Cleaning Unit removes dirt from the wheels of trolleys which were loaded in outside areas. In version one rotating round brushes clean the worst from the wheels; in the second model the residual fine dust is taken up by adhesive foil in front of the clean-room. The Wheel Cleaning Unit can be combined very effectively with the Entrance Matting System.
---